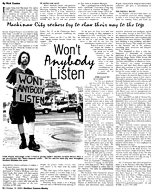 Northern Express
October 10, 2002

Won't Anybody Listen
By Rick Coates

Imagine being from Mackinaw City and in 1978 signing a record deal. Imagine selling 500,000+ albums. Imagine that same album climbing to number two on the alternative charts. Imagine having a big cult hit ("Boys Just Wanna Have Sex"). Imagine having videos on M-TV during the stations heyday. Imagine being so successful that your band made it possible for your label to make money and sign additional bands. Imagine all of this success only to find yourself not seeing any money, eventually having to rename your band and having your label go bankrupt after moving to Los Angeles.

That is exactly what happened to Frank and Vince Rogala. When the brothers left the snowy north for sunny LA with a signed record deal it was only a few short years later the reality side of the music business reared its ugly head and shattered their dreams and hopes of making it in the music business.

Twenty-five years after the brothers last performed in northern Michigan with their band Exude they return with their current band NC-17 and a critically praised documentary titled "Won't Anybody Listen." The film chronicles NC-17 and its struggles to gain a major label deal and the roadblocks they encounter on the way, including an IRS audit.

"Won't Anybody Listen" will premiere at various cinemas throughout northern Michigan including at the Bay Theater in Suttons Bay, October 12 at 4 pm followed by a live concert at Union Street Station starting at 7:30 pm. Proceeds from both the screening and the live show will benefit WNMC 90.7. NC-17 will also perform Friday October 11 at the Cheboygan Opera House with all proceeds benefiting the Opera House.


Exude evolved into NC-17 in 1990. The name change resulted because Exude was tagged with a "negative stigma," despite the group's earlier success, they were known as the band from the failed label.

"The other aspect in Los Angeles is that after a few months if you don't make it as band it assumed that something is wrong with you," said Frank Rogala. "So you change your name, a lot of bands change every six months."

Returning home means a lot to Rogala who will miss a VIP Hollywood showing of his film while in northern Michigan.

"This is exciting for me to bring this film home," said Frank Rogala. "It has been a long time since I played in northern Michigan, 25 years to be exact, so this means a lot to me.

It also is important to Rogala's band mates who were a part of the documentary process and the seven years it took from its conception to completion.

"All the guys are flying in at their own expense and paying for their equipment to be shipped in as well," said Rogala. "One of the motivating factors is the band has not seen the film on a full screen. The other factor is this will be our first live performance together in five years."

Rogala is quick to point out that despite the number of years between live shows the group will be well rehearsed and is excited to take the stage. Their hiatus and time between shows is the grim reality of the music business, something that the documentary does a good job of highlighting.

The film was produced and directed by Dov Kelemer, a 28 year-old L.A. based filmmaker. In many ways the making of the film, the final product and the challenges to have it shown, mirrors the groups struggles to succeed in the music industry.

"Won't Anybody Listen," weaves between a color and black-and-white format and at times with a grainy look gives an amateurish feel to film. All of this adds to deepening the viewers understanding of the story at hand. Even if it is just for 73 minutes one feels a connection to the band by quickly being drawn in and feeling the excitement and disappointments as if one were apart of what actually happened.

"The project was primarily bankrolled by Dov who borrowed 50,000 dollars from his mothers pension fund," said Rogala. "So, the low budget feel comes from the fact that it really was a low budget project, but the critics have praised this approach."

Like the group Exude the film was met with a lot of early praise. Major publications such as the New York Times, the LA Times, TV Guide and industry publications such as The Variety, The Hollywood Reporter and Film Critic.Com have all given the film glowing reviews.

That was a year ago and the film seemed to stall after its initial premier's in Los Angeles and New York last September. Debuting just after the 9-11 tragedy the film never took off. After high praise "Won't Anybody Listen" seemed destined to collect dust on the shelves but now it is experiencing renewed interest.

The Sundance Film Channel has picked up an option on the film and will be airing it as part of a series on music documentaries this month. The film will have a major press and VIP showing at the historic Egyptian Theater in Hollywood this week. Several colleges and universities have contacted Rogala asking that he bring his film to their campuses and give a presentation to students.

The Rogala's and their band mates are not second-rate musicians whose struggles to make it were because they lacked talent. Quite the contrary, Vince and Frank are articulate, passionate and intelligent and all of this comes through in their lyrics. They are immensely talented musicians and like their fellow band mates did everything right to make it in the music business. They didn't have drinking or drug problems, they didn't show up late to gigs, they simply fell victim to the business end of the industry, something most musicians and listeners know little about.

What happened to them is what has happened to thousands of talented musician. It is the same reason why John Entwistle, Roger Daltry, Willie Nelson, BB King, Merle Haggard and many musicians who have sold millions of albums are broke. The industry has unique accounting practices and labels don't always report all album sales resulting in lower royalties for the artist. The artist gets the fame and the behind-the-scenes people get the fortune.

Most musicians end up trusting others to make business decisions for them so they can focus on the creative aspect of their careers. The result is musicians like Ted Nugent being basically bankrupt until recently when he and his wife took over management of his operation. Ozzy Osbourne was in debt 20 years ago and had nothing to show from his Black Sabbath success, it was only when his wife Sharon took over his management that he got out of debt and started getting his fair share of revenues.

VH-1 and M-TV are full of "Behind The Scenes" programs that show how successful musicians have destroyed themselves with drugs and alcohol or band infighting. These programs have failed to address the other side of the music industry struggle: Underhanded business practices. The reason why 50,000 guitar players, 30,000 singers, 30,000 keyboardists and 15,000 drummers in the LA area alone haven't made it in the music business isn't because they all lack talent, in some cases they are as or even more talented then those with multi-million dollar label deals.

"Won't Anybody Listen" captures this other side in several ways, even by what was left out of the film. The fact that certain aspects of the their struggles were left out of the film in fear of major lawsuits is one example of power of industry insiders. Rock critics, label executives and others are not identified by their employers only by their respected positions because of potential negative ramifications for their employers in future business dealings.

This is a must see film for any musician with visions of success in the music business. For anyone who aspires a major record deal "Won't Anybody Listen" may change all that. This film will also answer the common question, "boy that band is really good or she really can sing, I wonder why they haven't made it?"

NC-17 will prove they have the goods to make it in the business when they take the stage Friday October 11 at the Cheboygan Opera House and Saturday, October 12 at Union Street Station in Traverse City. Both live shows begin at 7:30 pm. The Union Street Show will follow a screening of the film at the Bay Theatre in Suttons Bay. For information visit www.anybodylisten.com or call WNMC at (231) 995-1090.