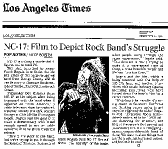 Los Angeles Times

NC-17: FILM TO DEPICT ROCK BAND'S STRUGGLE staff writer Mike Boehm

NC-17 is making a movie that it figures will be rated PG.
The idea, according to singer Frank Rogala, is to depict the life and times of the long-struggling band from Orange County and to use its story to illustrate the downside of the Southern California rock dream.
Filmmaker Dov Kelemer chose NC-17 as his subject after being impressed with the band when it appeared on "Rock America," a cable television show he produced. Kelemer already has shot concert footage at Club 5902 in Huntington Beach. Rogala said the goal is to make a documentary with broad enough appeal to run on cable networks or to be given theatrical release.
"This is the story of one band but we're trying to put it through the lens that there are thousands of other people going through the same experience," Rogala said. "The director is really trying to make it a mass-appeal type of thing, a cross between "Roger and Me" and "Truth or Dare."
Rogala said the film, which is being financed with the help of NC-17's fans, with involve interviews with music industry figures, including executives who have turned down the band's bids for a record contract.
"Its [about] the insanity of playing music in Southern California and thinking you're going to get anywhere [given] the odds." Rogala said, "Everyone flocks here - there's estimated to the 10,000 artists clamoring for attention, and 97% of the records that are put out [nationally] fail. Its a struggling-against-impossible-odds kind of thing. We want to show things that are the truth, not have any acting, and just let it be real."