Courtney Love vs. the Music Biz
Declaring war on the record industry, Hole singer sues label and calls for an artists union


Courtney Love wants to revolutionize the record business. Love - who feels her band Hole's last album, Celebrity Skin, was a victim of neglect during record-company megamergers that saw her label, Geffen Records, absorbed by Interscope Records - filed suit in March against Geffen Records and the Universal Music Group seeking to dissolve her contract. Though such suits are a standard way for artists to renegotiate their contracts, Love insists she's out for blood, not money. At the center of her claims are the long-term contracts that the record industry is built on. If Love succeeds, her lawsuit would fundamentally change the relationship between record companies and artists.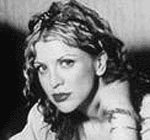 "This is not a renegotiation," says Love, who has urged other artists to join her cause and has spoken of forming a union. "The contract itself needs to change; it's impossible to mend. If I have to stand alone, I'll stand alone. I love fighting. I wake up every day rich. I wake up every day with a movie career. I've got three movies lined up. I'm this weird ex-stripper-junkie, and I don't give a shit. If I don't do this, who can?"
For all of Love's earnestness, no case like this has ever gone to trial. Some industry attorneys are skeptical of her chances, and so far no other artists have joined Love in her crusade. Many record executives are watching the case closely with hopes that it will be settled out of court, which remains a possibility.
Ironically, Love's wide-ranging suit, filed in Los Angeles, had its genesis as a standard contract renegotiation, according to the artist and sources at UMG. But both sides say it quickly spun out of control. Love says she is unhappy that the label she signed with, Geffen, is now part of Interscope, a company she previously declined to record for; she believes Interscope executives let Celebrity Skin die. Sources at UMG, who spoke on condition of anonymity, portray Love as an artist with a shaky future who got angry when the company didn't offer her the same contractual improvement they gave to Beck. It is a characterization that Love refutes. "I'm not a has-been - I'm a million-seller," she says. "I'll be a million-seller when I'm fifty."
Love's suit comes at a time when many artists are concerned with industry consolidation and the impact that the Internet will have on the way their music is distributed. Don Henley, Sheryl Crow and Alanis Morissette have spoken in Congress on the need for rockers to represent their own interests. Industry insiders speculate that Morissette is withholding her third studio album for Maverick Records until the outcome of Love's suit becomes clear.
The action by Love is a wholesale indictment of standard record-business practices, which she characterizes as onerous and impossible to fulfill. The suit takes aim at the methods labels use to tie up artists for virtually their entire careers, a bedrock feature of the standard recording contract. Most contracts guarantee artists only one or two albums, but companies reserve the option to record as many as seven - a commitment that can last fifteen years or more. Yet according to California's labor laws, no one working under a personal-service contract can be forced to sign a contract that's longer than seven years. In the Eighties, when rock stars began citing the law as a way to free themselves from these contracts, the industry's trade group, the Recording Industry Association of America, lobbied for and received an amendment to the code, making artists who repudiated a contract liable for albums still owed to the label.
Artists and attorneys often agree that contracts signed by new artists are unjust. "A new-artist agreement is one-sided in favor of the labels," Henley told the Senate Judiciary Committee on April 3rd. "A typical artist could sell half a million records and not see one dollar in royalties."
Love claims to have already turned down a large settlement offer from UMG, and she compares what she is doing to the way actress Olivia de Havilland used the courts in the Forties to help change the film-studio system. It's not an inflated boast: If Love wins her suit, successful artists could be out of their initial contracts after two or three albums. Such a development could be a financial windfall for artists - just as it could reduce the profitability of record companies.
In many ways, Love is tailor-made to challenge the industry. As an actress and recording artist, she is unapologetic about her pursuit of stardom. Nor is Love unaware that the case shines a spotlight on her: She says she has asked Chanel to give her three couture suits to wear to court. "Egowise, what's better than having a law named after you?" she asks. "I want my name on the anti-corporatization law."
Love says she has a moral obligation to follow through on this challenge. She feels ashamed that she remained silent during Pearl Jam's unsuccessful challenge of Ticketmaster's near-monopolization of the concert-ticket industry in 1994. "Eddie Vedder was right," she says. "When he took on Ticketmaster, nobody stood up with this guy. That image of him standing up alone in front of Congress has haunted me. And by the way, where were U2 and R.E.M. and everyone else at that moment?
"I feel a spiritual commitment, due to the fact that I inherited a lot of Kurt's [Cobain's] money," she adds. "My daughter has most of it, but I have some. There's some sort of deliverance in doing this. It would honor him. I own the Nirvana catalog, and I'm doing what I think is right by my husband. Part of it is closure on that, too."
But part of it also has its roots in how the many record-company mergers and acquisitions of the last few years drastically altered the industry landscape. In 1992, after an indie EP and album, Hole were courted by several major labels, including Interscope. They signed what Love describes as a less-lucrative contract with Geffen Records because of the company's reputation as an artist-friendly label. "I went there for its history [of breaking rock artists]," says Love. "I want to be big. I don't want to be Ani DiFranco. I wanted to be a star."
At that point, Geffen had already been sold to MCA but still operated autonomously - and continued to do so even when MCA was purchased in 1990 by the Japanese electronics firm Matsushita. But by the late Nineties, Matsushita sold MCA to Seagram, the Canadian liquor and beverage company; Seagram also acquired Polygram Records and merged the two record operations into the Universal Music Group. UMG was recently sold to Vivendi, a French corporation with holdings in the cable, Internet and waste-management industries. At UMG, the first merger meant that several labels, including Geffen and A&M, became part of Interscope, a situation that led several artists, including Beck, to renegotiate their contracts.
Love's lawsuit began as a similar renegotiation but broke down, she says, largely over her anger at finding herself on Interscope. "I took a shittier deal for Geffen's legacy and size. And then they sold me. And again. And again. Like a piece of meat." More to the point, Love believes that UMG should have done more to promote Celebrity Skin: "I thought, 'Fuck them. They stopped working my record.'"
One former UMG executive says that many of the acts on labels that have since been folded into Interscope are "definitely treated like stepchildren." But he also suggests that Love was indulged by Geffen and unlikely to receive the same treatment at Interscope. "She's impossible, but the attitude at Geffen was, 'Oh, that Courtney!'" he says.
By her own account, Love behaved outrageously during several business meals with UMG executives, offering settlement proposals that the company was sure to reject. At one, with Geffen president Jordan Schur at L'Orangerie in Los Angeles, Love says she ordered the restaurant's most expensive bottle of wine - she says it was a $12,000 1948 Chateau Petrus - and outlined her contract demands on a napkin. They included a multimillion-dollar pledge to build a retirement home for recording artists, funding for an artists union, a fifty percent royalty rate and sole ownership of her copyrights. (A spokeswoman for Schur confirms the general details of the meeting but says the wine, while expensive, was not $12,000.)
Since record-industry attorneys are generally trying to get their clients a deal, it wasn't long before Love felt she'd have to hire someone who wasn't an entertainment lawyer if she really wanted to test the contract. She turned to Barry Cappello, a California trial lawyer with a track record in complex commercial litigation. The suit they filed contains more than a dozen complaints, including unfair competition, restraint of trade and breach of contract. It seeks to have Hole's contract voided and all of the group's masters and videos returned.
The suit essentially focuses on three issues: the assignment clause (the part of the contract that landed Hole on Interscope); the contentions that industry contracts are impossible to fulfill; and the claim that the labels shouldn't have the right to seek lost profits when an artist vacates a contract after seven years. "The right to recover lost profits is used as a hammer with smaller artists," says Cappello. "For a record company to say that someone was going to make a certain amount of dollars on an album they never released is the height of speculation."
Love's suit is particularly compelling in its argument that record companies sign artists to contracts that can't be completed in seven years and that the record companies don't want fulfilled in that period. It notes that while record labels have historically signed artists to seven-album deals - implying that the artist would deliver one album per year in the course of the contract - fulfilling them is virtually impossible. The life of a blockbuster album can last two years or longer. "They want artists to tour," says Love. "If I wanted to put out seven albums in seven years, they wouldn't let me. If I were Jessica Simpson, yeah. But what's that got to do with rock artists?"
The suit also claims that when record labels received their California labor-code exemption, they alleged that artists do not become profitable before their sixth or seventh album, because of high development costs. "'Artist development' is a myth promoted by the record companies," Love and Cappello argue in their cross-complaint. "Any artist who is not profitable by their second album will find their contract terminated."
UMG has filed a response seeking to have each of Love's contentions knocked out. A hearing before Los Angeles Superior Court Judge Fumiko Wasserman was scheduled for May 9th, when an October or November trial date is expected to be set. In the interim, Love has called on artists to form a union as an advocate for their interests both within and outside the industry. She says the organization she envisions would be different from the Recording Artists Coalition championed by Henley and Crow, which has focused on providing recording artists with a lobbying voice in Washington. Love is in agreement, calling the RIAA "antithetical to artists" and "our enemies." But she also says that artists don't have health and pension plans like those available to actors and athletes. "The Screen Actors Guild has a [retirement] home," Love says. "Every guild in the arts has them - and we all die without teeth. I don't know how to do it. I need help. I need union lawyers. I need the older artists to run it." Love says she has received encouragement for the idea from artists including Michael Stipe, Dixie Chicks, U2, Morissette, Bush, Prince and Q-Tip.
Love says she's aware that other artists, with an eye on maintaining their relationships with their labels or promoting their next album, might not be so quick to stand with her in public, even if they privately agree. "I know I'm gonna be real lonely," she says. "Fuck it. I've been lonely all my life. Maybe it's self-destructive, maybe it's from being a junkie. I don't know. But I do know it's important to give back. I know that sounds corny. But I've got the day job and the money to do this." Then, noting that Limp Bizkit's Fred Durst is a vice president at Interscope, she adds with a laugh, "I have the Nirvana catalog in my hands, so that makes me the president of Geffen - and artists are going to get fair contracts."
FRED GOODMAN
(RS 870 - June 7, 2001)